Scholars, activists, and policy experts discuss how technologies contribute to inequity and offer ways to build a more resilient civil society.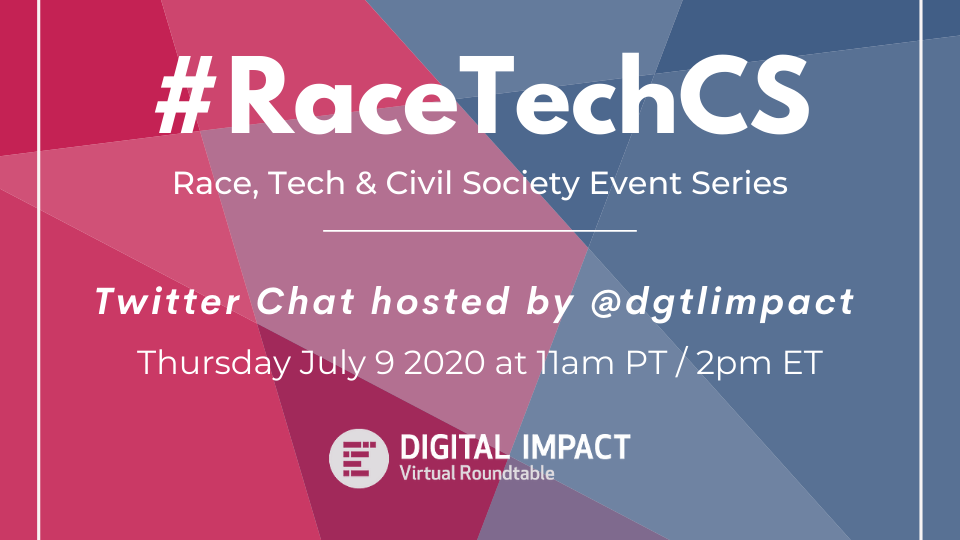 Background
We now depend on digital communications for nearly every aspect of our daily lives. As our dependencies on digital technologies increase, so do disparities in equity — especially for Black, Brown, and Indigenous people. How is technology being used to surveil BIPOC communities and what are the ways to organize against this surveillance? Why should people have a voice in how technology is regulated and employed? What happens to civic participation when BIPOC people are targeted with misinformation? These communities are leading responses to these inequities, building on their collective wisdom and trusted relationships, and welcoming new allies in this fight.
About the Series
Race, Tech, and Civil Society: Critical Conversations for Times of Crisis explores questions rooted in our histories, impacting our present moment, and critical to our futures. The global pandemic gives new urgency to conversations about race, technology, and civil society. As we depend on digital communications for every aspect of our daily lives, who is left behind? How are technologies being used to surveil communities of color, and how do communities respond to such surveillance? Why is it critical for people impacted by technology to have a voice in how that technology is regulated and employed by governments? Join scholars, practitioners, activists, and policy experts as they explore these important issues.
Chat Rules
To view the chat rules on Twitter, click "show this thread" at the tweet above.
Rule 1: Start your answer with A1, A2, etc. Example: "Q1 What did you have for breakfast?" "A1 Muffins and juice!" Questions will be tweeted 5 minutes apart.
Rule 2: Use #RaceTechCS. Including the official hashtag in your tweets means your answers won't get lost.
Rule 3: Keep the conversation focused on the topic. RT and comment on other tweets. We want to hear about your accomplishments, but don't promote anything unrelated to the conversation.
Rule 4: Pause, and consider how others might read your tweet. Proofread and edit your answers.
Rule 5: Report abuse. Spot a troll? Tap the down arrow in the upper right of the tweet and select the "Report" option.
Rule 6: Give space for others' opinions. If you disagree, do so respectfully. A little positivity goes a long way! For more, see Twitter's Hateful Conduct Policy on the Rues and Policies page.
Finally, in the spirit of maintaining a welcoming environment for all, please note that we have a zero tolerance policy for disruptions, inappropriate language or harassment. We reserve the right to report anyone engaging in this behavior.
Conversation
It's never too late to join the conversation. Link to questions and threads below, and include #RaceTechCS in your tweets.
Q1 Police surveillance during the pandemic exposes discriminatory policies — many advanced in the name of "safety" — against Black and Brown communities. For example, #FacialRecognition technology led to a false arrest in Detroit. What makes a society safe? What needs to change to get there? #RaceTechCS
Q2 How can we learn from the unethical use of artificial intelligence on Black communities? What is needed to prevent #FacialRecognition technology from leading to more false arrests? #RaceTechCS
Q3 Police surveillance & abuses in communities of color show the fragility of our civil liberties: privacy, free speech, due process. How are communities organizing to protect these civil liberties? How can people and community groups get engaged? #RaceTechCS
Q4 Building on past efforts to mute Black voters, some social media influencers are using disinformation about #COVID19 to discourage Black turnout in elections. What tactics are successful in stopping this and how can these methods be expanded? #RaceTechCS
Q5 Imagine the possibility of citizen-governed, trustworthy digital systems for communication, engagement, organizing and connecting. What do we need for such an infrastructure (e.g. broadband access, cybersecurity) and how can it be built? #RaceTechCS
Q6 Publicly sharing videos of police brutality helps to increase accountability. But explicit images are a form of violence themselves. What are the best ways to use these videos to stop the violence without re-traumatizing people? #RaceTechCS
Q7 Black activists, technologists and scholars are key leaders and designers of equitable approaches to using artificial intelligence –- including calling out where and when it should not be used. What's working in these efforts and how can others join? #RaceTechCS
Q8 What is the role for students, scholars and universities in protecting digital rights and civil liberties? What do they need to do to work legitimately with communities on these issues? #RaceTechCS
Q9 What civil society-led efforts are combating disinformation right now? What steps are you taking — online or offline — to fight disinformation? #RaceTechCS
Q10 Facebook changed its policies around hate speech and voter suppression after companies pulled their ads from the platform. This isn't enough. On Twitter, accounts of dissidents are hacked by state actors engaged in coordinated disinformation campaigns. How can communities respond to social media companies who aren't doing enough to keep their platforms safe and reliable? #RaceTechCS
Q11 What human skills, laws or digital technologies do we need to address online censorship and Internet shutdowns? #RaceTechCS
Q12 Public requests for information about police surveillance tech are often denied, even though known effects of this tech are discriminatory. How can federal, state and local governments make a positive difference and how can we hold them accountable? #RaceTechCS
Q13 How are local communities reclaiming oversight of $ spent on surveillance technology by governments? How are residents limiting the use of surveillance tech to protect their quality of life? Share your examples! #RaceTechCS
Q14 How can the surplus from overfunded police departments be reallocated? How can this $ support community initiatives for coding and digital literacy, data collection, human-centered app deployment, and ethical contact tracing? #RaceTechCS
Q15 Calls to defund the police are already being used to justify expanded use of surveillance technology, especially as city budgets collapse. What will be the most successful strategies and tactics to counter this? #RaceTechCS
Q16 How can data professionals, academics and policy experts use their time, resources and connections to facilitate coalition-building in states and cities actively trying to suppress BIPOC votes? #RaceTechCS
Series Co-Sponsors
[ess_grid alias="grid-2″]