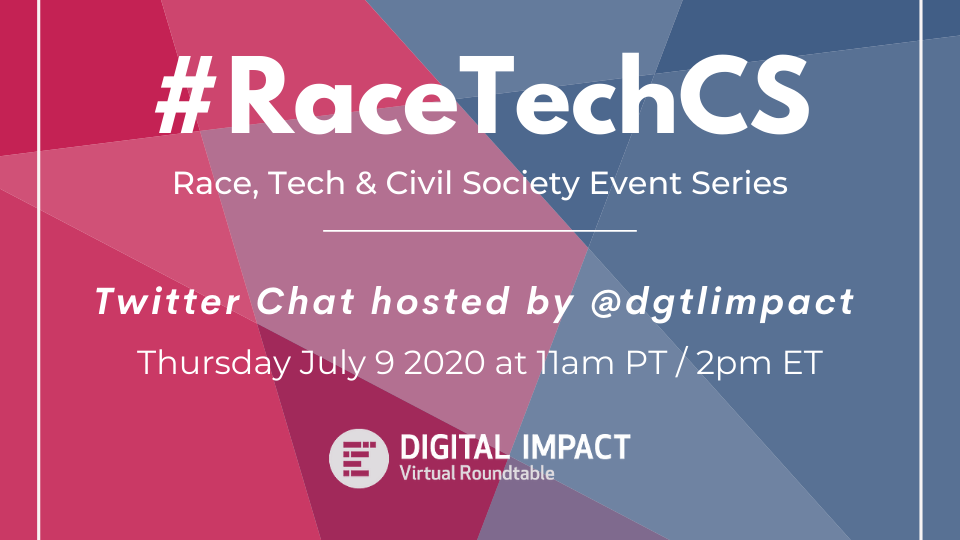 #RaceTechCS Twitter Chat Hosted by @dgtlimpact
Race, Tech & Civil Society Event Series
July 9, 2020 | 11am to 12:30pm PT
2pm to 3:30pm ET
Background
How is technology being used to surveil BIPOC communities and what are the ways to organize against this surveillance? Why should people have a voice in how technology is regulated and employed? What happens to civic participation when BIPOC people are targeted with misinformation?
Following the first two events in the Race, Tech & Civil Society series, Digital Impact will host a Twitter chat to explore these and other questions. Join the conversation with #RaceTechCS, respond in real time, and see what others are saying.
We now depend on digital communications for nearly every aspect of our daily lives. As our dependencies on digital technologies increase, so do disparities in equity — especially for Black, Brown, and Indigenous people. These communities are leading responses to these inequities, building on their collective wisdom and trusted relationships, and welcoming new allies in this fight.
Join us on July 9 for this special event on Twitter @dgtlimpact with #RaceTechCS.
How to Participate
Follow @dgtlimpact on Twitter. Before the chat, search #RaceTechCS and select the 'Latest' tab for the full conversation. TIP: In a new tab, check @dgtlimpact to see only the questions as they are posted. The questions will be tweeted 5 mins apart.
Sample Questions
Police surveillance during the pandemic has exposed discriminatory policies (many advanced in the name of "safety") against Black and Brown communities. What makes a society safe? What needs to change to get there?
Police surveillance & abuses in communities of color show the fragility of our civil liberties: privacy, free speech, due process. How are communities organizing to protect these civil liberties? How can people and community groups get engaged?
Building on past efforts to mute Black voters, some social media influencers are using disinformation about COVID-19 to discourage Black turnout in elections. What tactics are successful in stopping this and how can these methods be expanded?
Black activists, technologists and scholars are key leaders and designers of equitable approaches to using artificial intelligence – including calling out where and when it should not be used. What's working in these efforts and how can others join?
What civil society-led efforts are combating disinformation right now? What steps are you taking (online or offline) to fight disinformation?
What is the role for students, scholars and universities in protecting digital rights and civil liberties? What do they need to do to work legitimately with communities on these issues?
Series Co-Sponsors