Last week we officially kicked off the next phase of Markets For Good. Not only did we launch our brand new website – you can read all about the website's new features here – but our founding partners at the Bill & Melinda Gates Foundation and Liquidnet hosted #MFGLive in Seattle, Washington; the largest gathering to date of the Markets For Good community (see below for the full list of participants).
Coinciding with the new website, #MFGLive was assembled not as a conference, but as a two-day hands on workshop focused on the following challenge: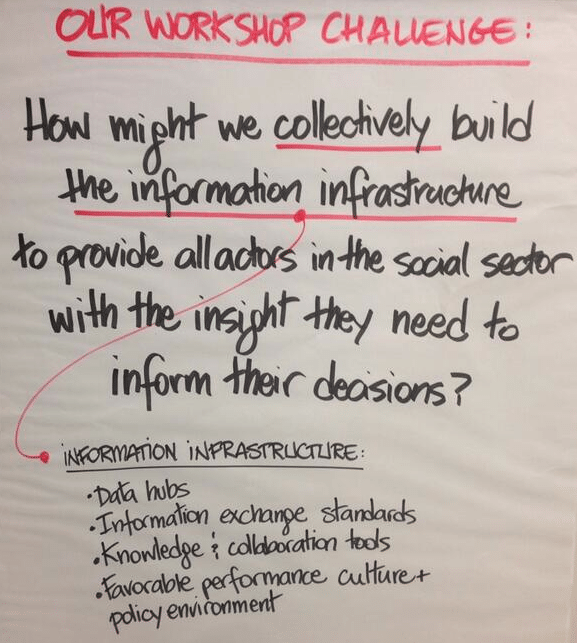 From this, other key issues arose. Notably, how do we set data standards? How do we best measure impact? How do we ensure that data is open, while not breaking our right to privacy?
With a wonderful mix of enlightening talks and well-facilitated break out groups – thank you Humantific! – much ground was covered. Emphasizing results and outcomes, the participants really responded to intense discussions on day 1, which compounded the desire to create effective solutions in small groups on day 2.
Speakers ranged from nonprofit thought leaders, such as Beth Kanter and Lucy Bernholz, through to winners of the 'Grand Challenges Exploration'(highlighted here LINK). We even heard from Jonathan Greenblatt, of the Office of Social Innovation and Civic Participation at the White House. For a more in-depth look at the agenda, talks and discussion, check out the #MFGLive Storify.
It's one thing to talk about problems, it's a whole other to make progress with tangible action. After two days of diverging, converging, and hatching creative plans to tackle some of the biggest data and information related issues the social sector faces, the participants focused in on a number of concepts and efforts they committed to work on in small teams. The first of which is a set of principals for the Markets for Good movement – we will be highlighting these principles in the coming weeks.
We will use this website to track the progress made by the #MFGLive participants.
In the coming months we will also be featuring the works, opinions and ideas of many of the #MFGLive participants.
Enjoy our new website, soak up the learnings that come out of #MFGLive, and let's look to build a real community around this drive for social change together.
---
Those of you active on Twitter will have noticed a flurry of activity, relating to #MFGLive, and we hope you enjoyed the pictures, quotes, and questions. For those who missed out, never fear, we have turned the tweets into a lively post here (LINK).
Below is the list of #MFGLive participants:
| | | |
| --- | --- | --- |
| Ana | Alberts | Charub |
| Greg | Amrofell | Intentional Futures |
| Jamie | Attard | Bill & Melinda Gates Foundation |
| Greg | Baldwin | VolunteerMatch |
| David | Bank | Impact IQ Inc. |
| Eleanor | Bell | Bill & Melinda Gates Foundation |
| Avery | Bell | Intentional Futures |
| Ken | Berger | Charity Navigator |
| Lucy | Bernholz | Stanford DCS Lab |
| Meredith | Blair | The David and Lucile Packard Foundation |
| David | Bonbright | Keystone Accountability |
| Adrian | Bordone | Social Solutions Global, Inc. |
| Elizabeth | Boris | Urban Institute |
| Joana | Breidenbach | betterplace.org |
| Tamara | Christensen | Humantific |
| Jackie | Closurdo | Humantific |
| Andy | Cook | bgC3 |
| Mark | Corbett | I.G. Advisors |
| Zach | D'Angelo | Laura Arrillaga-Andreessen Foundati |
| Josh | Daniel | bgC3 |
| Tushar | Deshpande | Foundation Center |
| Suzanne | DiBianca | Salesforce Foundation |
| Michael | Diederich | Intentional Futures |
| Annie | Donovan | CoopMetrics |
| Jeffrey | Falkenstein | Foundation Center |
| Janet | Getto | Humantific |
| Jonathan | Greenblatt | Office of Social Innovation and Civic Participation |
| Emily | Hansen | Bill & Melinda Gates Foundation |
| Jacob | Harold | GuideStar |
| Jennifer | Hauseman | Gates Foundation |
| John | Hecklinger | GlobalGiving Foundation |
| Michele | Jolin | Results for America |
| Beth | Kanter | Beth's Blog |
| Sarah | Koch | Case Foundation |
| Stacie | Kronthal | Network for Good |
| Mari | Kuraishi | GlobalGiving |
| Kim | Laughton | Schwab Charitable |
| Michael | Lenczner | Ajah & PoweredbyData |
| Tristan | Lumley | NPC |
| Nancy | MacPherson | The Rockefeller Foundation |
| Ian | Magee | Heron Foundation |
| Rebecca | Masisak | TechSoup Global |
| Annie | Maxwell | Skoll Global Threats Fund |
| Ian | McAllister | Amazon |
| Mike | McCamon | Water.org |
| Sean | McDonald | Social Impact Lab |
| Darin | McKeever | Bill & Melinda Gates Foundation |
| Andrew | Means | Center for Data Science & Public Policy, UChicago |
| Jane | Meseck | Microsoft |
| Valentina | Miosuro | Humantific |
| Carlos | Miranda | I.G. Advisors |
| Thomas | Moroz | Techné Verde |
| Perla | Ni | GreatNonprofits |
| Gisli | Olafsson | NetHope |
| Andrew | Palmer | Development Initiatives |
| Elizabeth | Pastor | Humantific |
| Evan | Paul | GuideStar |
| Jason | Payne | Palantir |
| Hilary | Pennington | Ford Foundation |
| Carmen | Perez | CECP |
| Cheryl | Porro | Salesforce Foundation |
| David | Proctor-Bonbright | Keystone Accountability |
| Laura | Quinn | Idealware |
| Saara | Romu | Bill & Melinda Gates Foundation |
| Robert | Rosen | Bill & Melinda Gates Foundation |
| Jean-Louis | Sarbib | Development Gateway |
| David | Sasaki | Bill and Melinda Gates Foundation |
| Cinthia | Schuman Ottinger | The Aspen Institute |
| Rikha | Sharma Rani | Solutions Journalism Network |
| Pushpa | Singh | Civil Society Information Services India (GuideStar India) |
| Gavin | Starks | Open Data Institute |
| Art | Taylor | BBB Wise Giving Alliance |
| Henry | Timms | 92Y |
| Brian | Walsh | Liquidnet |
| Dara | Westling | TechSoup Global |
| Kaitlyn | Woods | Bill & Melinda Gates Foundation |
| Parastou | Youssefi | Bill & Melinda Gates Foundation |