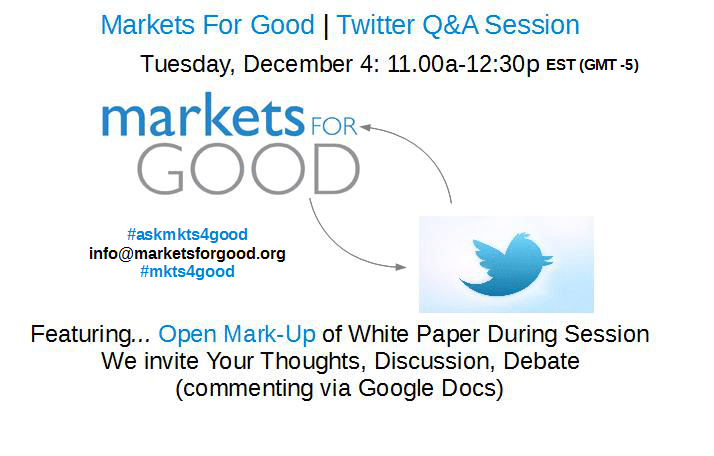 We invite you to a live Q&A session and open comment of the Markets For Good white paper: Upgrading The Information Infrastructure For Social Change. The open comment component will allow you, via public link on Google Docs to post your questions, ideas, and comments on the document as we conduct the discussion.
Markets For Good is endeavoring, through your voices, to generate a meaningful discussion that is rooted in and pointing directly to action n how we can improve our data practice in the social sector.
For the Twitter Q&A session all you have to do is show up on Twitter (see: @marketsforgood) and join the conversation. Spread the word: we will use the hashtag #askmkts4good to guide others across Twitter to the discussion.  The goal, as with the effort on the whole, is to maintain an open and honest discussion that can move us forward.
Please review the white paper, with comments enabled. In the meantime, here are a few themes from the white paper to start our thinking.
How and why we need to upgrade the info infrastructure, based on sections 4-5.
How this will help the sector, based on section 6.
Examples of how people are doing this already: Tell us what you are doing and about ready projects for scaling and investment, building, in part, on section 7.
Potential ways forward: Ideological discussion and debate is exhilarating, but there are enough good works in action for us to piece together concrete ways to enable the "good" the social sector proposes with much more effective generation, use, and open sharing of high-quality data.
We thank you in advance for your participation and input. In the meantime, feel free to send questions in advance via the comment section here below.