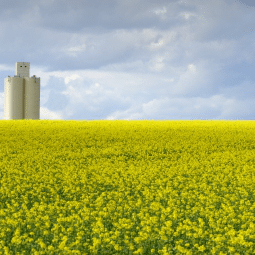 The "cause-related" silo is a common phenomenon in many companies: the social impact activities are less integrated into the business and each business unit goes about its own way of doing "good." This isolation can be effective for specific projects, but won't match the weight of the business impact of the larger enterprise. Oktay Dogramaci, Head of the Global Cause-Related Solutions team and Director of Product Management at PayPal, not only represents a personal example of integrating social impact into the fabric of the business, but he has also worked across various business units of parent company, eBay Inc., to break up the functional silos that could hinder both business and social impact. [Image: The lone silo may make a pretty picture, but it's not really the picture we want.]

…
It should be no surprise that eBay Inc. – with its 137 million active registered accounts and 124 million active Marketplaces users – has a wealth of data at its disposal to driver better business results for our customers and for the company. However eBay Inc. is made of up several different business units, spanning eBay, PayPal, eBay Enterprise, StubHub, and many others. Like many organizations, we have a number of initiatives going on to share data across the company to drive better results. Some of these were on display at the National Retail Federation's annual big show, where this year's theme is "Elevated Insight."
When it comes to elevated insight, our Social Innovation strategy is no exception. At eBay Inc., one of our three key areas of impact is powering charitable giving. Our approach to charitable giving is grounded in what we do best – technology-enabled commerce. We're working to extend our business models to create a worldwide network for good that inspires everyone – whether individuals, nonprofits or global brands – to take action.
Through an increasingly global and diverse portfolio of businesses, as well as cutting-edge tools that enable anytime, anywhere transactions, our approach to powering charitable giving is three-fold:
 Connect people with easy ways to support the causes they care about
Enable nonprofits to raise mission-critical funds and connect with donors in new ways
Offer innovative ways for retail partners and celebrities to extend their positive impact.
Our long-term goal is to power the world's largest platform for charitable giving. In 2013 we made public commitments towards that end. By 2015 we plan to double the number of customers that take action on behalf of a charity through our giving programs and platforms; to double the total value of funds raised generated for charitable organizations through our giving programs and platforms; and to double the number of charities that benefit from our giving programs and platforms.
I've been part of the eBay Inc. family long enough to be able to say that at least within the Social Innovation realm, it was not that long ago that our business units were working in functional data silos. I remember one case in point where two business units were not aware that each of them were simultaneously working on a cause-related initiative with the same benefiting nonprofit, missing opportunities to maximize impact and reach.
But I can also unequivocally say that these days we have broken down those silos and operate as one company. We've taken action to intentionally break up our Social Innovation teams and spread individuals throughout the business units in the company. And with activities ranging from yearly Social Innovation summits to share best practices, to the development of company-wide "Cause dashboards" from our enormous data warehouse that aggregate information across initiatives, to bi-weekly meetings with our global teammates to simply stay in sync, it is evident that we are doing things much better today. For example, when the eBay business unit runs an experiment to calculate the value of a donor's location when determining a relevant charity to put in front of that person when they are checking out on our site, the PayPal team knows it and can act accordingly to determine how to adjust relevance algorithms on their side to create more relevant experiences for all of our customers and drive engagement with more charities.
By way of PayPal, eBay, StubHub and the rest of our global portfolio, we're pioneering new, disruptive giving solutions that take advantage of each business's unique assets to rally our customers in support of charitable causes. As we jointly work to drive the next generation of commerce, we're committed to building a future that enables and inspires charitable giving at a scale never seen before. With hundreds of millions of users and the trust that comes with processing billions of dollars in donations for nonprofits around the world, we think we can make a pretty good start.
…
Your Turn:
[poll id='28']