In 60 seconds, tell us: "Who are you, what do you do, and how does data matter in your work?"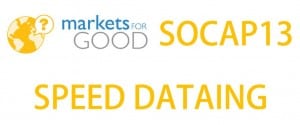 Through the simple prompt above, we "Speed Dataed" attendees of the Social Capital Markets Conference 2013 (SOCAP13), one year after the launch of Markets for Good at SOCAP12.
Why should we talk about data at SOCAP? Markets for Good aims to improve the system for generating, sharing, and acting upon data and information in the social sector. Our vision is of a social sector powered by information, where interventions are more effective and innovative, where capital flows efficiently to the organizations that are having the greatest impact, and where there is a dynamic culture of continuous learning and development.
Social entrepreneurs, impact investors, community leaders, funders, and social-sector change-makers of all sorts need a better way to collect, share, and use data collaboratively.
Click here to watch the interviews of some of those we "Speed Dataed," and come back again for more videos as we update our post on Storify!