For today's Roundup, we look at a recent article from The Chronicle of Philanthropy that highlights a nonprofit sharing sensitive data and the benefit it can have
The divide between shared data for better programs and the right to data privacy is a fine line to tread. As such, we were particularly interested to see Nicole Wallace of The Chronicle of Philanthropy publish this article on new shared, sensitive research.
Crisis Text Line (CTL) are a nonprofit who offer access to free, 24/7, emotional support and information to young people, who simply text when they are in need of help. According to the article, CTL are publishing "data about roughly 60,000 counseling sessions in the hope that academics, government officials, and other charities can help even more troubled young people."
Chief Data Scientist at CTL, Bob Filbin, believes that "with researchers and policy makers being starved for this kind of data, suddenly they'll be able to make more informed decisions about how you try to help teens in crisis."
The article goes into far more detail about some of the findings, which are shared as an informative public dataset. The webpage also comes complete with simple data visualizations, ideal for concerned parents and friends. It includes graphs and maps like the image below, and the map featured above.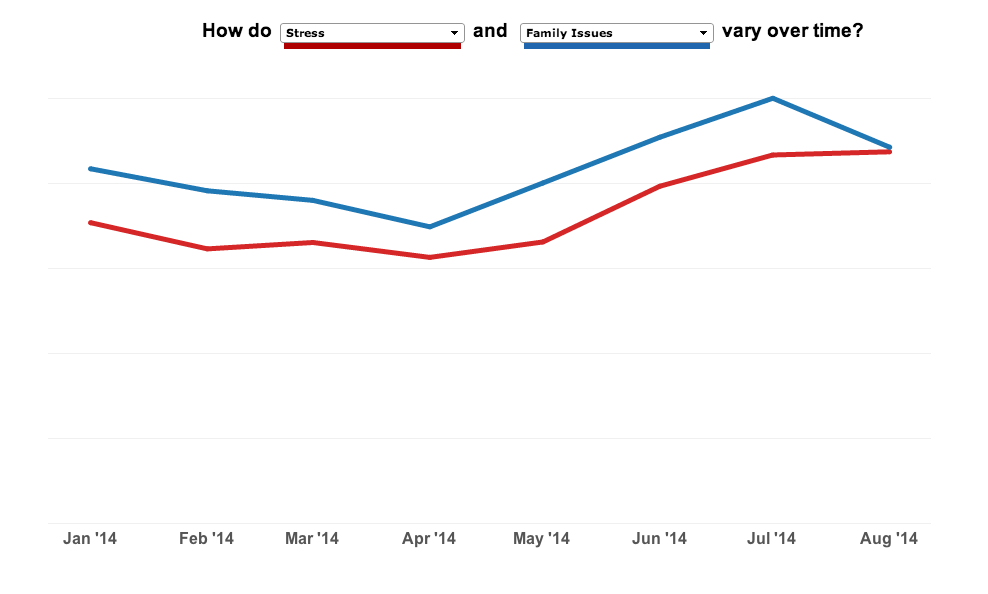 For a deeper look into the data, researchers must apply and go through a formal application process. As you can imagine, it is paramount researchers "follow strict guidelines to keep the data safe."
The article makes it clear that "Mr. Filbin thinks more nonprofits need to weigh whether they can expand the impact of their work by making their data available to others." Here at Markets For Good, we published an article just on Monday about nonprofits missing out on shared research and information. This is a clear example of an organization working to change this.
To conclude, Mr. Filbin says "the idea behind the public data project is that as an organization trying to create social change in the world, this data can create more of that value if we share it with other people."
---
Many thanks to Nicole Wallace and The Chronicle of Philanthropy for highlighting Crisis Text Line's efforts to both share and safeguard their data. Be sure to follow Nicole Wallace, The Chronicle of Philanthropy and CTL on Twitter for further stories.
To stay up to date with the latest Markets For Good articles and news, sign up to our newsletter here. Make sure that you are also following us on Twitter.