According to The Foundation Center, U.S. foundation giving reached an estimated $54.7 Billion in 2013.
According to the Foundation Center's 2014 report, Key Facts on U.S. Foundations "record-high levels of giving continue to grow just ahead of inflation." Released earlier this month, you can download the report directly, or read the Center's press release.
The report provides information on "the country's 86,192 foundations [which hold] $715 billion in assets and distributed a record $52 billion in 2012." Furthermore, this is attributed as 16% of total private giving in the U.S. as you can see below.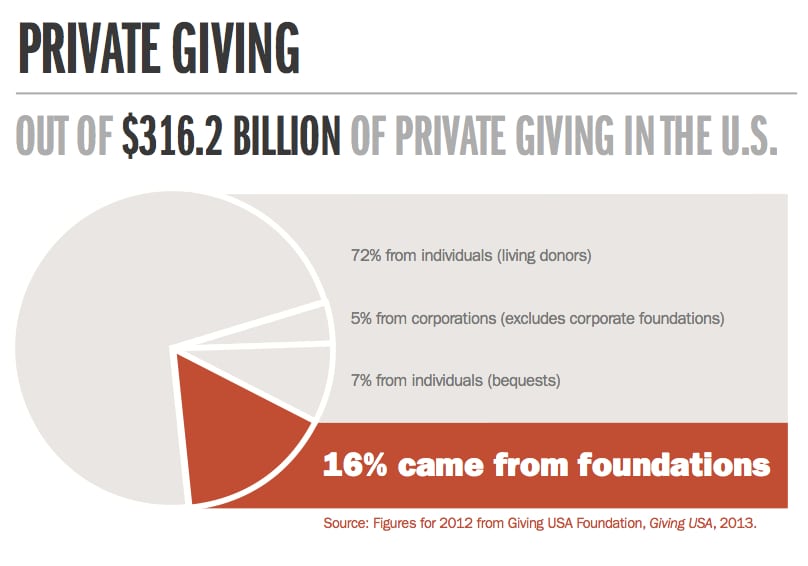 Among the key findings in the report:
In 2012, New York State led the nation in overall foundation giving ($8.7 billion).
California organizations ranked first in the amount of grant dollars received from the largest U.S. foundations ($2.4 billion).
The Switzerland-based World Health Organization was the top recipient of international grant dollars in 2012.
The report also gives good indication of how and where foundation grant making is being invested, as you can see from the diagram below.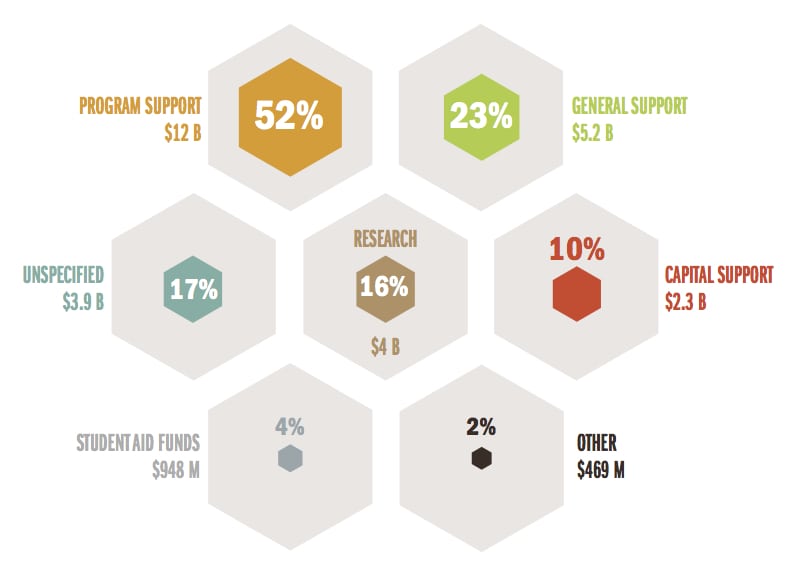 Though there is a lingering sense of ambiguity in the U.S. economy, "strong stock market performance has boosted the assets of many foundations and will undoubtedly encourage more individuals to create foundations." While the effects of the 'Great Recession' are still being felt, overall giving by the nation's private and community foundations reached $54.7 billion in 2013, "surpassing previous record levels even after adjusting for inflation."
"Overall giving by the nation's private and community foundations reached $54.7 billion in 2013"
The report concludes that "overall foundation giving will continue to grow a few points ahead of inflation in 2014. Independent and family foundations will likely show an even higher rate of growth."
---
Our thanks to The Foundation Center for sharing such comprehensive data, and providing the insights to go alongside it. Follow them on Twitter for future information into the state of U.S. philanthropy.
To stay up to date with the latest Markets For Good articles and news, sign up to our newsletter here. Make sure that you are also following us on Twitter.