Twitter and IndiaSpend are partnering to bring Indians real-time updates about air pollution levels through a simple tweet.
Right on theme with last week's #EarthDay2016, Raheel Khursheed, head of news and government partnerships at Twitter, explained that Twitter and IndiaSpend are launching a #Breathe hashtag service to provide Indians with real-time information on air pollution levels based on their location. All of this is done through a tweet.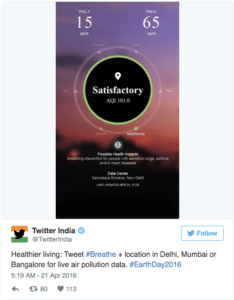 Users simply tweet #Breathe with their location and in reply will receive a real-time update of the air quality in their location. While the service is not available across India, for its initial launch phase, service will be available in Delhi, Mumbai, and Bangalore.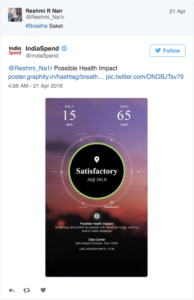 As released by the World Health Organization in December 2014, 13 of the 20 most polluted cities worldwide are in India. As Raheel explains, "pollution levels across India are rising and is a huge health issue affecting millions of people." Twitter and IndiaSpend are putting air-quality data in the hands of city residents in hopes that it will help encourage people to make healthier living decisions.
For more information about this partnership, read IndiaSpend's announcement. IndiaSpend is India's first data journalism initiative that uses open data to analyze a range of issues in order to foster better governance, transparency, and accountability in the Indian government.
Read the Twitter blog post here.