Hope Neighbor from Camber Collective talks about the $47 Billion donor opportunity in the US, as their latest Money for Good report is launched today.
Over the past five years, I've had the privilege of talking with scores of people about how and why they engage in philanthropy. In the course of these conversations, I've been struck by a real and important tension. While we speak passionately and sincerely about the importance of giving, most donors' giving does not change much from year to year and giving overall in the U.S. has been stuck at roughly 2% of GDP since the 1970s. How do many donors hold philanthropy dear, but engage in relatively stagnant philanthropy?
The answer to this question is fundamental to revitalizing the giving tradition—to give more, and to give more dynamically. I'm excited to announce the release of Camber Collective's[1] new report, Money for Good ($FG) 2015, in which our firm aims to answer this question. This post highlights the $FG's key findings. You can access the full report, tools, and raw data at www.CamberCollective.com/MoneyForGood, free of charge.
Barriers to more giving in the U.S.
As part of $FG 2015, Camber Collective surveyed 3,000 U.S. donors and listened carefully in additional focus groups. We heard, and saw in our survey analysis, a set of issues that help to explain why donors don't give more and seldom refresh the way they give.
Donors:
Feel overwhelmed by the giving process: They are often uncertain where to start, don't have the information they want, feel pressed for time, and hence default to comfortable but less effective giving.
Want clearer communication with nonprofits: 49% of donors don't know how nonprofits are using their money, 34% feel hassled, and 20% are unsure who benefits from the work they're funding.
Don't know how much they give compared to peers: 75% of donors think they donate more than average, yet 72% are contributing at a rate that's below the national average. There are few clear societal norms around how much, where, or how to give.
Gravitate to "big-name" or personally known nonprofits: 61% prefer to give to large and/or well-known nonprofits but not necessarily the most effective organizations.
Are reluctant to change their giving habits: 67% of donors are loyal to their primary causes while only 13% intend to give to different nonprofits and only 9% compare nonprofits before giving.
These barriers, plus the generational shift and changes in communication being driven by technology, are all important factors that impact our ability to influence individual giving.
Where there's hope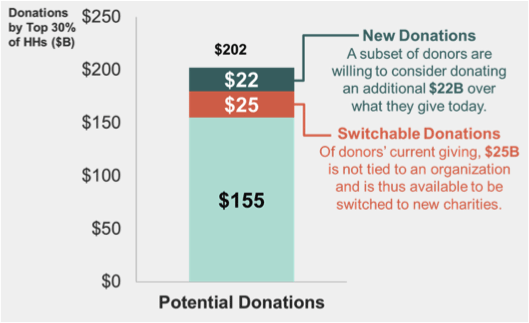 The good news is that donors are willing to change or increase their giving if the giving experience better meets their needs.
By our analysis, U.S. donors are willing to increase their giving by $22B and shift $25B of giving—a $47B opportunity. For organizations that aim to help donors give more or give better, this is a huge opportunity.
Traditionally, the social sector has relied on appeals to give a set share of their income to increase giving, and on research-based products and giving experiences to improve the quality of giving. However, these approaches only partially address key issues around giving.
To revitalize the giving tradition, the $FG 2015 research suggests we need to directly address key concerns around giving as well as define a "new normal" for giving in which we give dynamically and thoughtfully. We also need to provide products and experiences that make giving easier and simpler while better bridging the gap between donors and the people and places that nonprofits serve.
How can we revitalize the giving tradition to mobilize billions more?
$FG 2015 suggests that funders, nonprofits, and key third parties can help unlock the $47B by:
Identifying five donor segments including the three most likely to increase or shift their giving if we customize the way we message and engage them
Reframing the giving conversation to be more responsive to donor preferences for more joyful, simple, connected, and dynamic giving that bridges the gap between donors and beneficiaries
Mobilizing additional dollars by making changes to existing, large-dollar giving channels such as workplace giving, point of sale giving, and donor-advised funds (DAFs)
$FG 2015's donor segmentation toolkit is available online here, and can be used by any nonprofit to identify and inform messaging and engagement of each donor segment.
In conclusion
$FG 2015 reveals that if the philanthropic sector utilizes this new segmentation approach, invests in a reframe of the giving conversation, and leverages key giving channels, it can mobilize billions more for organizations confronting the world's toughest challenges. So what are we waiting for?
---
You can learn more about the findings from these reports and download the segmentation toolkit at http://www.cambercollective.com/moneyforgood.
[1] Hope Consulting –authors of Money for Good I and II– merged with SwitchPoint to form Camber Collective in spring 2015.