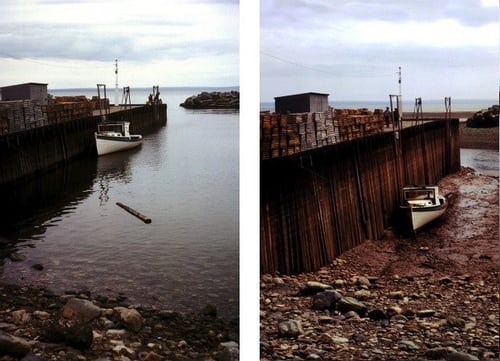 115-200 billion tons moving daily. Not tons of data, but water – in and out of the Bay of Fundy (left) alternating up to 50 ft between low and high tide. Just in case we're tempted to take the concept of "rising tide" lightly, it's good to revisit the roots of metaphors with which we may have a bit too much familiarity and appreciate their immenseness. In this case, Michele Jolin, Managing Partner of America Achieves, tracks the rising tide of evidence-based solutions in the social sector and the political alignment happening to drive it on a meaningful scale. Talk about syzygy! (We won't.That's pushing the tide thing a bit too far. But,um, we could.)

…
Recently, Results for America joined with The Hamilton Project to host a wide-ranging discussion on the importance of using evidence and data to inform policy and funding decisions. We brought together those who are doing the hard work in communities with those who are in charge of crafting policies at the local and federal levels. At the event, leaders from both parties, and from both ends of Pennsylvania Avenue, called for greater use of evidence in crafting social policies and improving outcomes for young people, families and their communities.
Too often, issues are divided by politics, but during our discussions in April, partisanship gave way to agreement on the importance of working together to confront the challenges facing our country.
Over the next decade, America will face enormous social and economic shifts driven by global competition, an aging population and budget constraints at all levels of government. Young people will be vulnerable to these pressures at a time when we need to be preparing them for lifelong success.
Now more than ever, government funds need to be invested in a way that will produce better outcomes for young people and their families. At Results for America, an initiative of America Achieves, we are committed to directing public resources toward solutions that harness evidence and data to continuously improve and expand the impact of those programs that work in communities across the country.
By collecting data, continuously evaluating programs and directing government funds toward those that are succeeding and away from those that are falling short, we can achieve better results and can get a better return on taxpayer investment. If we can make tax dollars go farther, and have greater impact in communities nationwide, we can begin to restore trust in a government that has proven to be less efficient than the workforce it represents. Something Alan Krueger, the Chair of President Obama's Council of Economic Advisers, highlighted at our recent event.
President Obama's Fiscal Year 2014 budget request, released in early April, takes significant steps toward that goal, building on progress he made during his first term. His budget includes an unprecedented focus on improving access to data and increasing the use of evidence in making funding decisions. He expands federal innovation funds and Pay for Success initiatives, increases resources committed to fund evaluations, takes first steps toward using evidence in directing formula grant dollars and begins to create "what works" clearinghouses in federal agencies. The President's budget also boosts some of the most successful results-based programs created to date to evaluate new ideas and scale up the most effective approaches for improving schools, student achievement and job training, to name just a few. His budget proves that he meant what he said during his 2013 State of the Union address, to "do what works" and "make sure none of our children start the race of life already behind."
Other opinion leaders and public officials – including New York Times columnist David Brooks, Harvard economist Jeff Liebman, U.S. Senators Rob Portman (R-OH), Mark Warner (D-VA) Mary Landrieu (D-LA) – have touted the demonstrated success and future promise of results-oriented programs. And, thanks to an amendment by Senators Ron Wyden (D-OR) and Debbie Stabenow (D-MI), the Senate Democratic budget calls for greater use of data and evaluation in making funding decisions.
In cities and states across the country, mayors and governors are already adopting an evidence-based approach and using data to improve their communities. The private sector has also stepped up. In order to really improve outcomes, our government cannot be afraid to partner with companies, foundations and communities on what works.
At our recent event, Senator Portman said that government decisions need to be informed by more evidence. He said what many of us know to be true: that in this time of limited budget resources, we have to make sure every dollar is spent as efficiently and effectively as possible, because we cannot afford to spend federal dollars in ways that are ineffective.
The next step will be to build on this growing momentum. Communities large and small are having tremendous success implementing innovative solutions that are improving lives every day. We need to harness their spirit and encourage our lawmakers to drive more public dollars to what works for young people and their families.