In her regular column, Between The Dashboard And The Chair, Beth returns to discuss key learnings from the Leading Change Summit earlier this month.
Recently, I co-facilitated the "Impact Leadership Track" at the NTEN Leading Change Summit with John Kenyon, Elissa Perry, and Londell Jackson. Our track was one of three, where participants could take a deep dive into a topic and learn from peers through dialogue. The event also included plenary speakers, including a provocative talk about storytelling with data from Alexandra Samuel.
Her most controversial point, and reason for this post, was:
"Rigorous data gathering and analysis can get in the way of effective storytelling by non-profits."
She was speaking to a room filled with nonprofit leaders who have the power to use data as part of communications campaigns to raise awareness or inspire people to take action on important causes. Yet, they are held back because they lack the resources or skills.
In her talk, Alex encouraged the audience to discern between the scenarios where rigorous, objective research is needed, using scientific methods and those where they can simply tell an interesting or compelling story with data. She created the following 2×2 for nonprofits to help think through the level of rigor necessary, and to establish which research methods are the best fit for doing quantitative data storytelling.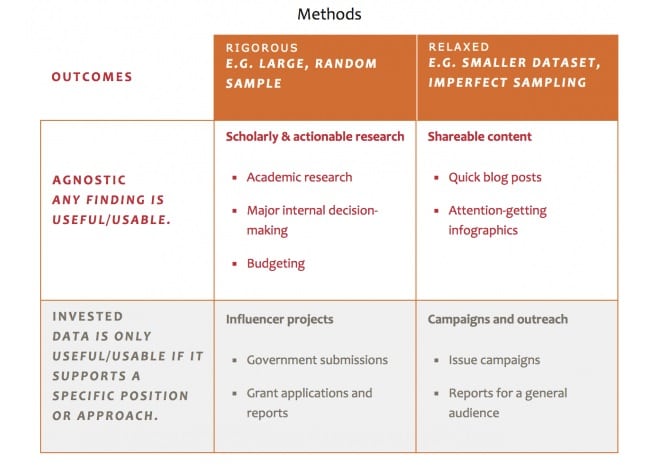 Alex noted that in an ideal world, nonprofits would have access to high quality data collected through rigorous methods and professional data scientists to design, implement, and analyze it. However, this isn't always the reality. As she points out "Sometimes you can get the results you need (like inbound traffic generated by an eye-catching infographic) by sharing data that is useful and interesting, if imperfect. That's why I think it's time for organizations to get comfortable doing at least some of their data work in the "relaxed" zone, because that is better than missing out on doing any data storytelling at all."
What do you think?   Should any data that a nonprofit uses be rigorous or are organizations missing an opportunity by not using "relaxed" methods? Let us know in the comments below and on Twitter.
---
Many thanks to Beth Kanter for another insightful piece from her regular column, Between the Dashboard And The Chair.
To stay up to date with the latest Markets For Good articles and news, sign up to our newsletter here. Make sure that you are also following us on Twitter.