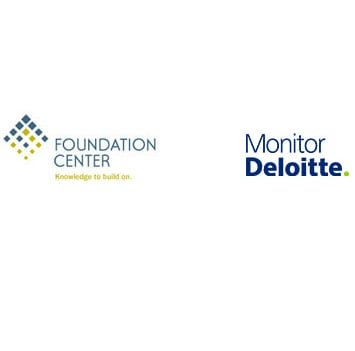 We expect a lot out of technology these days. How can we use it to foster better collaboration among funders? It's not just a question of staying current. That's a given. It's about quickly assimilating tools and then getting on with building things. But, first, what do we mean by collaboration? What kind of tools are we talking about? And how can they actually help funders be more effective? With support from the Bill & Melinda Gates Foundation, the Foundation Center and the Monitor Institute set out to investigate these questions. Lisa Philp, Vice President for Strategic Philanthropy at The Foundation Center discusses the findings and what they created as a result.
…
Our combined team has lived and breathed donor collaboration from many vantage points—as funders, grantees, researchers, consultants, and philanthropic advisors. We started with an extensive literature review on collaboration in philanthropy. We added questions about collaboration to a large-scale annual survey of U.S. foundations. We interviewed funders and other social sector leaders on successes, failures, opportunities, barriers, and incentives related to collaboration.
Our findings have led to a new framework, a new report – Harnessing Collaborative Technologies: Helping Funders Work Together Better – and a new interactive tool finder to facilitate collaboration. We're excited to premiere all three today.
A New Framework: Collaborative Needs
In our research, we found useful frameworks for various types of funder collaboration such as learning networks, aligned funding, and pooled funds. What was missing, however, was a framework for articulating different types of collaborative needs.
When Funder X wants to move from flying solo to an approach leveraged with others, she needs to learn as much as possible about her field of interest and find potential partners. On the other hand, Funder Y has been part of an education reform working group affiliated with her regional association of grantmakers for several years. His needs are about improving implementation—developing common goals, building a sense of community, and getting the work done. Then there's Funder Z, who is active in a long-standing collaborative to improve the lives of low-income people in urban America. She's focused on measuring progress and educating policymakers.
In response to the myriad needs and motivations, we developed a chart that crystallizes these funder archetypes and many others into a framework for collaborative needs that can be matched against possible solutions. The discovery phase includes the need for learning and finding people. The action phase is about designing strategies, building community, and transacting. And the impact phase is focused on assessing and influencing. [click to expand image]

The Technology
A parallel investigation for this project was a "big tent" look at the ever-changing and expanding world of technology tools. The Monitor Institute-Foundation Center team reviewed over 170 online tools—some that are specific to philanthropy, but the vast majority of which were created for more general audiences—with this lens of how they could help meet the collaborative needs of funders. Our team interviewed technology experts for their insights. And then we made sense of the madness by bucketing the tools into 17 categories ranging from collaboration diagnostics to data analysis and visualization to social networking and online community.  [click to expand image]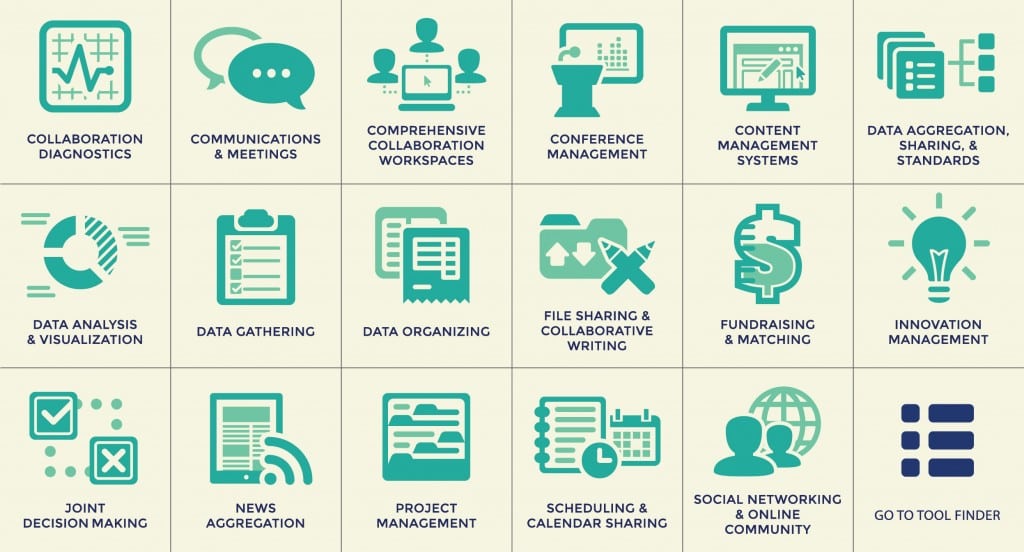 Chances are good that you are already using some of the tools like Doodle, DropBox, Eventbrite, LinkedIn, and SurveyMonkey. But we're sure that even the most die-hard tech gurus will discover something new and helpful in our round-up.
The Report and Interactive Tool Finder
If you're a Markets for Good regular, you may want to geek out and read the full 44-page report, Harnessing Collaborative Technologies: Helping Funders Work Together Better for examples of the ways that tech tools are currently helping donors be more effective—as well as untapped possibilities. The report also includes our set of recommendations for funders, end-users, and tool-builders on improving the collaborative technology landscape.
But if you happen to be a dogged Luddite or simply pressed for time, we've still got you covered. Read the four-page executive summary, Key Findings From Harnessing Collaborative Technologies: Helping Funders Work Together Better and then check out the companion GrantCraft interactive tool finder.
GrantCraft taps the practical wisdom of funders to develop resources that improve the philanthropy sector. This free interactive tool finder brings our analysis to life and allows for exploration by each of the seven collaborative needs or any of the 17 categories of collaborative tools. The custom search functionality can help a tech newbie cut through the clutter by screening for, say, free tools to find partners for a small collaborative or enable the tech savvy to easily find tools they haven't yet tried.
Our hope is that these resources serve as a catalyst for a more collaborative and effective philanthropic future. Let us know what you think.