We interviewed the team behind Software Advice about their latest Fundraising and Donor Management Software Report, giving insight into how nonprofits are leveraging technology to connect with donors.
In the nonprofit market, we focus a lot on fundraising since it's so important to the sector. Technology has changed a lot in the past decade, and fundraising software is no different. Janna Finch of Software Advice, a company that helps organizations compare fundraising software, gives insight into how nonprofits are leveraging technology to connect with donors. She researches and writes about industry best practices, as well as conducts primary research looking for software purchasing and larger industry trends. Here are some details from her most recent report:
You recently released your Fundraising and Donor Management Software Report. What are some of the key findings of the report?
Now more than ever, nonprofits are looking to share stories about their program activities, need, and impact with donors and funders. This trend is reflected in our most recent survey data, where we found that requests for email marketing & outreach tools have increased 133 percent over last year. Successful fundraising requires engaging donors, and nonprofits are hungry for tools to turn one-time donors into repeat contributors. Many are discovering that the best way to make that happen is to maintain consistent messaging and regular communication, and email marketing is a big part of that– it's an easy way to show donors how their contribution directly impacts outcomes.
Top Reasons Behind Replacing Software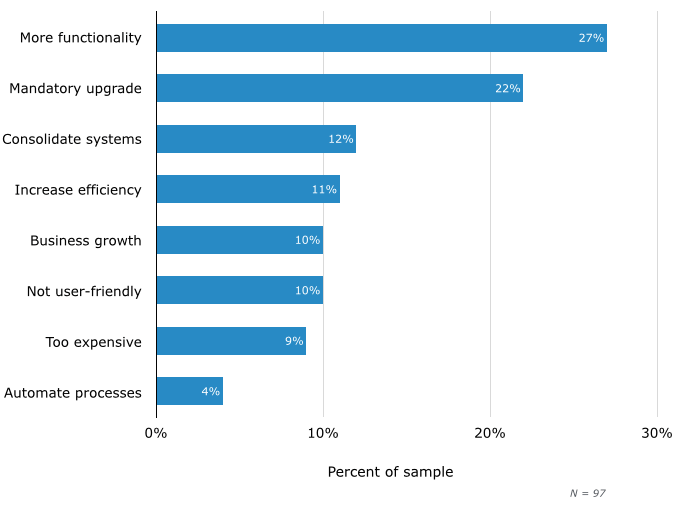 For fundraisers looking to start using software or upgrade/replace their system, what are some recommendations?
There are three steps I suggest that can help nonprofit professionals choose the right fundraising software for their organization. First, communicate with everyone who will be using or supporting the software and create a list of features/functionality that are "must-have" and "like-to-have". For example, if you need the software to handle recurring donations and allow you to define donation amounts on donation forms, document that need. Be mindful of any integration requirements with other programs you use, especially with software for accounting (one of the top requested integrations of 2015).
Top Requested Communication Functionality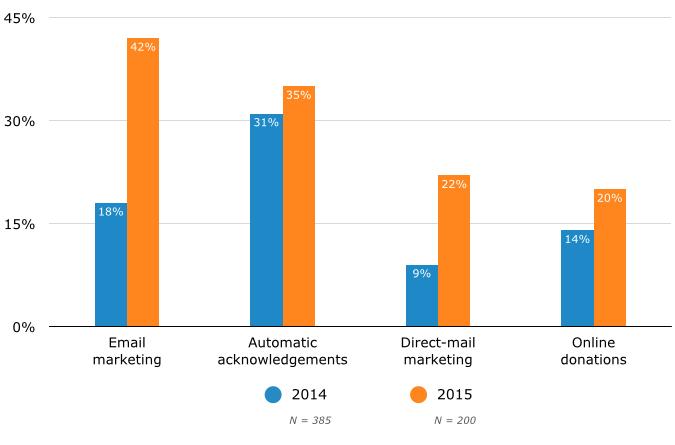 Once you've assessed your priorities, you can create a shortlist of 3-5 products by doing some preliminary research online. You can also talk to peers and other organizations to see what they use, read product reviews or confer with a consultant.
Then, it's on to running through demos and trials with the vendors. Come prepared with questions, and be sure to ask about whether the product has your must-haves and like-to-haves. Work through what you learned to determine which is best for you. Don't just choose the best on the list if it's missing key functionality or integration options. Choose the product that is truly best for you!
Top Requested Functionality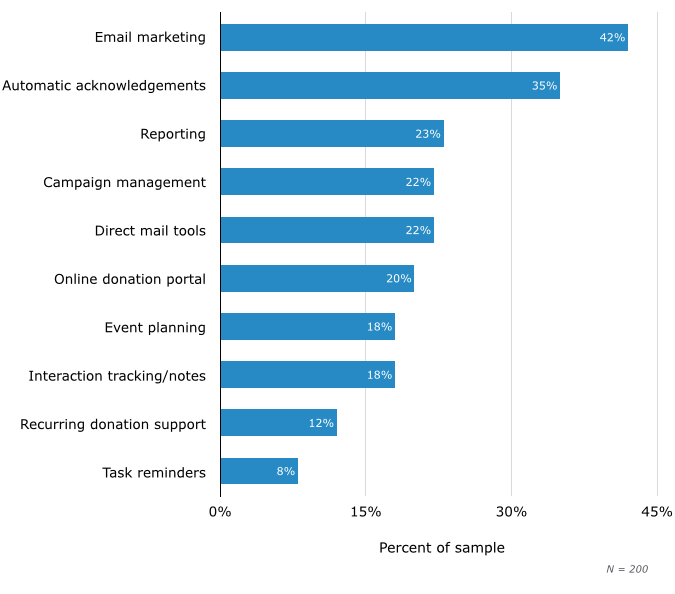 Were there any new findings related to social media?
An interesting change from last year was that 17% of our sample requested social media integration with their fundraising software. Most fundraisers these days have social media responsibilities in addition to the rest of their job, so having a system that integrates with social accounts is an easy way to make sure messaging is consistent and you're continually engaging donors there, even when there isn't a specific campaign going at the time.
Job Role of Respondents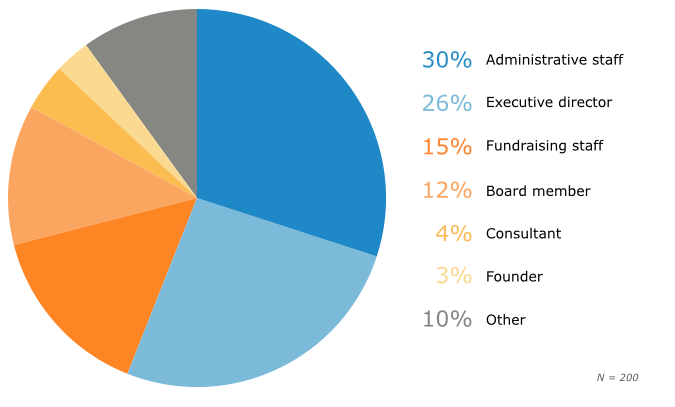 ---
Many thanks to Software Advice for this interview and insight into their latest report.
To stay up to date with the latest Markets For Good articles and news, sign up to our newsletter here. Make sure that you are also following us on Twitter.