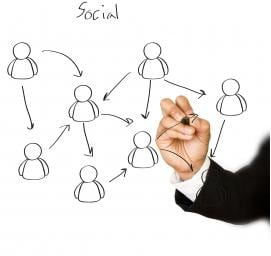 Based on his work as Founder, President and CEO of the Family Independence Initiative, MacArthur Genius Award winner Mauricio Lim Miller brings an uncommon lens to the modern concept of "social," redirecting the investment of thought and resources toward the social ties that can directly change lives. He also refreshes another couple of words, "innovation" and "product development," putting those in the context of low-income people as an untapped market, in contrast to the perception of beneficiaries-in-waiting. Transparent and subject-centered data collection is at the core of how it all works.
How can data best be used in the interest of those that the social sector aims to serve? As collaborations on more and better ways to gather and share data grows in the sector, it's imperative to consider how direct consumer feedback can help build social and economic mobility for low-income people and communities.
Consumer feedback data is powerful. It delivers information directly from the consumers to funders and policy makers. If we make feedback a critical measure in funding decisions, then it has the power to create programs that are more accountable to consumers. More critically, consumer feedback can drive innovations and product development that responds to consumer demand.
What we have found in our work, echoed in a recent Kaiser Family Foundation/NPR study, is that if you ask people who have used social programs what has helped them most to move forward, they generally do not cite social programs. Rather people identify friends and family (social capital) as their greatest source of help. If you also ask what they would find most helpful for their progress they likewise don't identify more or better programs, but rather access to money (financial capital) to build a better future for themselves and their families. This suggests that our sector should pay more attention to supporting the social ties that exists in low-income communities and developing products that invests money directly into the hands of those who don't have it.
Consumer feedback delivers direct information about what people need to be successful. It is an invaluable tool to learn about gaps in the current system and an opportunity to see the fine-grained details about what would work better for people. If funders collect and value consumer feedback they will discover a new direction for investment that is led by consumer demand.
For more than 10 years, my organization Family Independence Initiative, has worked with low-income families across the U.S. to learn how to create environments that support their success. To do so we have created a transparent and comprehensive data tracking system that is both a subject-centered model for data collection and a tool for change. The detailed consumer feedback system flags market failures and shows clearly what families need to move forward.
Families enrolled in the initiative receive computers to access the data-tracking system where on a monthly basis they input their progress on everything from income and health to helping others and networking. They also provide feedback on services they receive and share this information with each other. Most powerfully, they use the information as a feedback tool. They are able to view their data over time and they tell us that the ability to track their own progress is a powerful tool that helps them stay on track and make change.
It is through this fully transparent data collection and feedback process that we are able to see patterns emerge on issues that are most relevant to families. Consumer feedback about market failures and unmet demands has pointed FII to innovate new tools to directly address these demands.
For example, through this process we learned that families have difficulty accessing flexible loan capital. Families need relatively small amounts of cash to start small businesses, pay off high interest debt, put a down payment on a car, and a myriad of other things. Microfinance programs and traditional lenders were not meeting this demand and families were turning to high interest payday lenders.
In response to this consumer demand we developed and tested a loan product adding alternate underwriting criteria that allows for more detailed and accurate risk assessment. Partnering with Mission Assets Fund, FII launched a pilot loan program that broadened traditional underwriting used by lending institutions and incorporated "character" information, mutuality, and payment history traditionally not used by banks (rent, cell phone bills, utilities, etc.). This loan product is easily replicable and could be adapted to multiple communities. FII is working to share our process with financial institutions so they can change their practices to undercut predatory lenders.
Funders and policy makers can increase their efficacy by collecting and responding to direct consumer feedback. For example, a funder might learn that in the community where they are funding job training programs the residents have identified affordable quality childcare as their most significant barrier to employment. The funder can then re-think their approach so their money is better spent.
In the for-profit sector businesses regularly rely on direct consumer feedback to be more effective and more efficient—this is how they stay open. In the social sector, philanthropic funders rely on theories of change, proposals, and third-party evaluations to drive their funding priorities. Funders and policy makers have very little contact with the people they are trying to impact and instead rely on third-party professionals to help them determine what gets funded. Thankfully, technology can help bypass the "middle man" allowing market data on low-income consumers to be collected directly.
Low-income people and communities receive a lot of attention when it comes to charitable giving and "helping those in need." But these communities are an untapped market place for smart investments with social good ambitions. The voices of low-income consumers should drive what and how these investment resources are distributed.