Idealware, in partnership with Markets For Good, have launched a microsite dedicated to sharing program results data from around the world.
We all know a wealth of useful data exists online, in various publications, or hidden away in public archives. Initiatives – often local or focused on a particular sector – have emerged over time to collect and report that data and apply the findings to particular areas of interest. But there's a bigger story this data can tell. What happens in Nebraska or New Mexico might make a difference in Nova Scotia or the Netherlands.
The problem is, how do you find that information – or even know what exists? And who knows what else we can learn by seeing all of these initiatives side by side?
Last month we told you about an ongoing research project we were conducting with funding from the Bill & Melinda Gates Foundation. Today we're pleased to show you what we've been working on with the launch of our new microsite, Results Data Initiative: Charting the Known World.
We're especially pleased to unveil the site in partnership with our friends at Markets for Good, who have led a number of efforts to standardize and share data. We designed it to allow people to explore the various initiatives our research uncovered and to see the distribution across different sectors, data storage and sharing activities, attributes such as whether the information is public or represented in a dashboard, and geographic focus. You can also filter and compare the level of public awareness of each initiative among its peers, learn more about each initiative's mission, and follow links to initiative websites. You can even download the data for your own use.
Below is a snapshot of how the 309 initiatives we found fit together. To dig deeper, visit the full site at initiatives.digitalimpact.org and take some time to explore. If you have any questions or comments, or simply want to let us know what you think of the site, please use the comments below.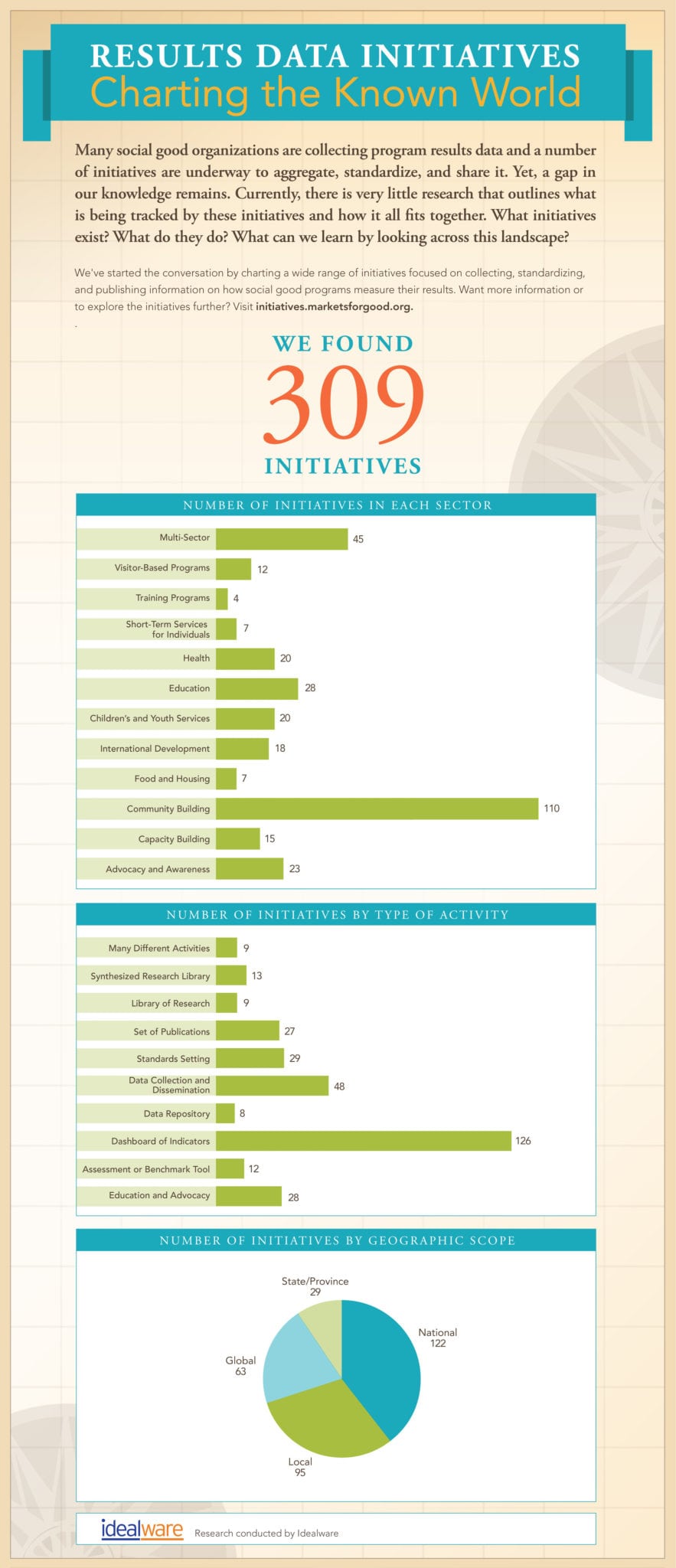 ---
Many thanks to Laura Quinn and her team at Idealware, who have been busy collecting the data and preparing it in a user friendly format on our new microsite, initiatives.digitalimpact.org. Take a look, and let us know what you think!
To stay up to date with the latest Markets For Good articles and news, sign up to our newsletter here. Make sure that you are also following us on Twitter.